Hajk-Georg Drost
Computational Biology and Causal Inference
Max Planck Insitute for Biology
Faculty in: TIPP, IMPRS
Vita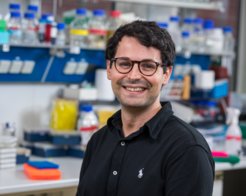 PhD studies,

Martin Luther University Halle

, 2013-2015

Postdoctoral Researcher, University of Cambridge

, 2015-2018

Senior Postdoctoral Researcher, University of Cambridge,

2018-2019
Research Group Leader,

Department of Molecular Biology, MPI for Biology

, since 2019
Research Interest
Intelligent software is adaptive, scalable, and user-friendly. Inspired by recent advancements in deep learning and cloud-computing, we develop intelligent open-source software and harness it to translate the predictive capacity of machine learning into molecular biology research. Our ultimate aim is to predict the regulatory evolution of gene expression and causally associate molecular mechanisms of gene regulation with phenotypic changes in complex traits. We approach this by integrating comparative and functional genomics at tree-of-life scale with evolutionary transcriptomics and causal inference of gene regulatory networks to derive a data-driven predictive framework of trait evolvability.
Our Software:
Available PhD Projects
Detlef Weigel and I highly welcome applications from enthusiastic students interested in exploring the biodiversity encoded in the tree-of-life using DIAMOND.
Selected Reading